The WatchGuard AP120 Wireless Access Point provides enterprise-grade functionality at a fraction of the cost. Built for networks with heavy smartphone and tablet access such as guest or public Wi-Fi environments, or smaller-footprint locations that support limited devices. This access point is ideal for branch offices, stores, and small classrooms.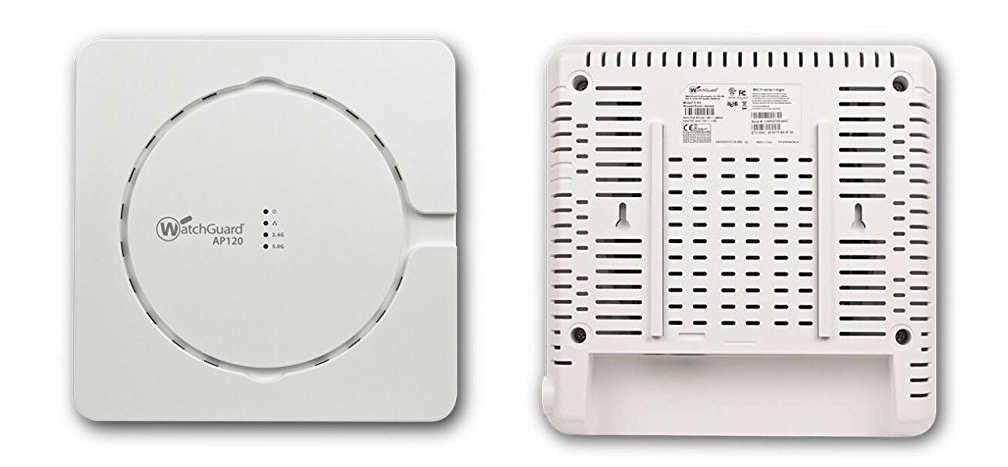 Physical Specifications
| | |
| --- | --- |
| Property | Specification |
| Physical Dimensions | 210 mm x 210 mm x 67 mm |
| Weight | 3.22 lb. (1.46 kg) |
| Operating Temperature | -20°C to 55°C (-4°F to 131°F) |
| Storage Temperature | -40°C to 70°C (-40°F to 158°F) |
| Humidity | 5% to 95% non-condensing |
| Power Consumption | Max: 10W, Min: 5.7W, Average: 7.5W |
| | | | |
| --- | --- | --- | --- |
| Port | Description | Connector Type | Speed/Protocol |
| Power | This is a 12V DC input jack that can be used to power the device. | 3.5 mm barrel | N/A |
| LAN1 | Gigabit Ethernet port used to connect to the wired LAN and communicate with the WatchGuard Cloud or Server. This port can also be used to power the device using the 802.3af Power over Ethernet (PoE) standard. | RJ-45 | 10/100/1000 Mbps Gigabit Ethernet 802.3af Class 0 PoE PoE input voltage: 48V |
| Reset | Reset to factory default settings | Pin-hole / push-button | Hold down and power cycle the device to reset |
Features & Benefits
AP120 delivers enterprise-grade security and performance at a very affordable price point.
Horizontal (ceiling) or vertical (wall) mounting support included at no additional cost.
Wi-Fi Cloud-enabled APs include integrated firewall, traffic shaping, QoS and BYOD controls per SSID
Support for up to 8 individual SSIDs per radio allows for maximum flexibility in network design.
AP120 devices can be converted to a dedicated security sensor with a single click for maximum wireless protection.
Patented Marker Packet technology is used to accurately detect authorized, unauthorized, and external access points on any network with the fewest false positives in the industry
Supports self-healing and bridge-mode wireless meshing for optimal installation scenarios
Enterprise-grade Performance, Fraction of the Cost
The AP120 access point delivers enterprise-grade security and performance at a very affordable price point. This access point solution has concurrent 5 GHz and 2.4 GHz band radios Incorporating the latest 802.11ac standards.
Flexible Management Options
You can manage AP120 access points with either a Firebox®, via the Gateway Wireless Controller with lightweight feature set, or with WatchGuard's Wi-Fi Cloud. And with the Wi-Fi Cloud you get an expanded set of features including strong WIPS security, marketing tools, and location-based analytics for optimal business insights.
Performance Without Compromise
Incorporating the latest 802.11ac standards, you'll have speeds of up to 866 Mbps over the air, without sacrificing security. When managed by the Wi-Fi Cloud, WatchGuard APs come standard with RF optimization, spectrum monitoring, and trouble-shooting built in.
Uniquely Effective Approach to Security
Using patented Marker Packet technology, WatchGuard's cloud-managed WIPS (Wireless Intrusion Prevention System) defends your airspace from unauthorized devices, man-in-the-middle and denial-of-service attacks, rogue APs and more. As a dedicated WIPS sensor, the AP120 can be added to any existing Wi-Fi network for a powerful layer of patented security features simply unavailable in most AP devices.
Management that Scales
WatchGuard grows with you. Wi-Fi Cloud environment can take your business from 1 to an unlimited number of access points across multiple locations, with no infrastructure, eliminating administrative headaches and greatly reducing cost. APs can be grouped in many ways including location, building, floor, and customer to maintain consistent policies.
Download the WatchGuard AP120 Datasheet
Interested in installing the WatchGuard AP120 IEEE 802.11ac 1.14 Gbit/s Wireless Access Point? Contact us today.