Most businesses wait until disaster strikes to fix a server, recover data, or repair workstations. This approach is not only short-sighted. It's costly.
Instead of spending thousands on disaster recovery, prevent disaster from happening with ongoing maintenance and DRaaS. Invest in a monthly Managed Service Provider (MSP) plan with Shoreline Technology Solutions. Our plans provide antivirus protection, software licensing, computer repairs, server restoration, data recovery, and other business-critical IT solutions at an economical rate.
Protect Your Network and Your Data with Ongoing Maintenance
Don't settle for a Managed Service Providers that nickel and dimes you for every repair and support call. Specifically designed for small to medium-size businesses, our MSP plans cover a wide range of IT solutions.
MSP Plans for Your Business
Browse our plans below to find what's right for your business.
Workstation/User Support Plans
We handle everything. Installations, upgrades, monitoring, maintenance, troubleshooting, renewals, and more. We provide our customers with peace of mind for a fixed cost.
Server Plans
We can lend our years of experience and up-to-date technical expertise to proactively manage all aspects of your server's day-to-day operations and performance. With a Managed Services plan from Shoreline Technology Solutions, we will apply a complete suite of automated services that will monitor, manage, and maintain your server 24 hours a day, every day. You can gain complete peace of mind that your server will always be up and running at peak performance.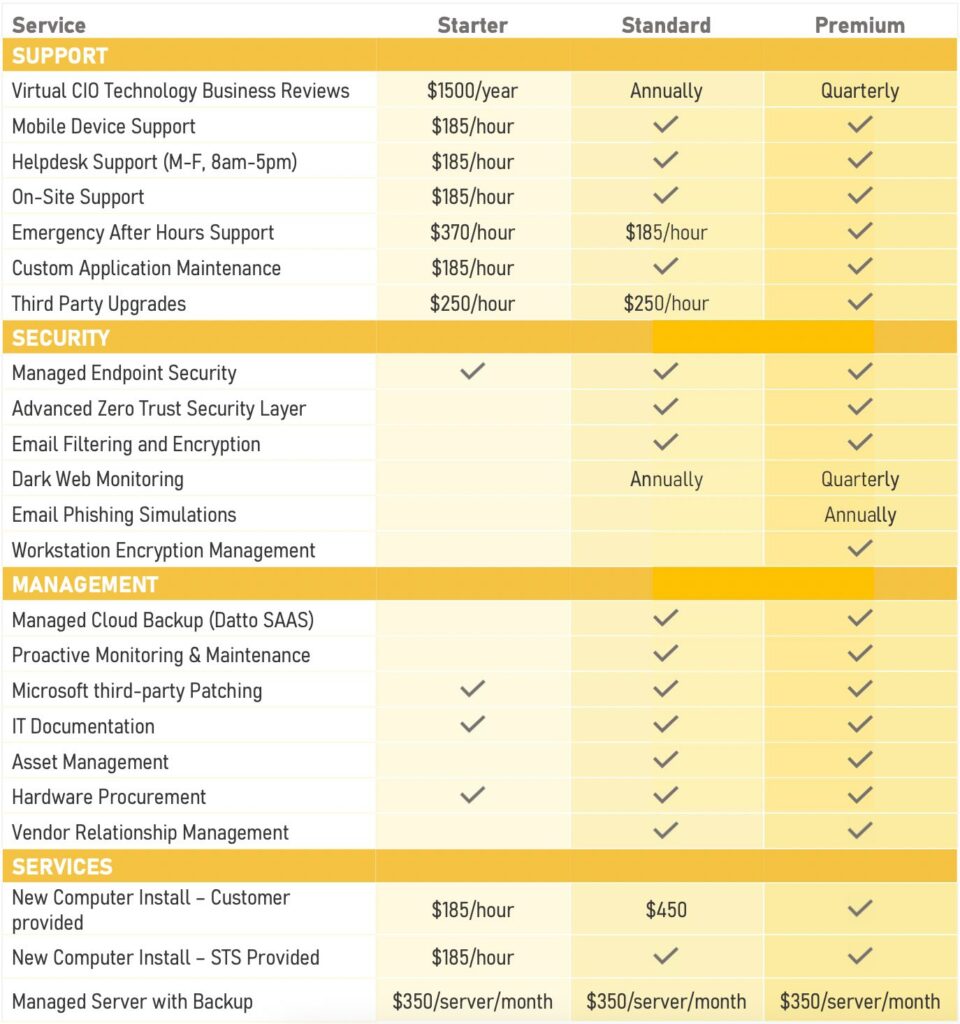 * Workstation repair includes operating system, in-office computer installations, and local printers. It does not include network printer setup. If our techs require third-party support, your plan may include an additional that's billed hourly.
** Our techs address tickets for critical repairs within 4 business hours of ticket creation. Please note that premium end user support calls are given a priority over other support tickets. We always schedule support during our first available appointment, the business day following the ticket creation. We resolve minor issues remotely.
How We Approach Managed Services
Our client's journey with us often begins with a single fix. With minimal downtime, our techs will build a backup solution for your business and accommodate its specific needs. We welcome this opportunity to build trust and to evaluate which issue should be addressed next.
We take a long-term approach to technology solutions. Our goal is to streamline the technology your business uses and to remove complications in its network. To achieve that, we focus on hardware and equipment upgrades, data organization, cloud-based server and software adaptation, and network rebuilds.
Contact us today to learn how our Managed Services can help your business.