One of the key factors driving Azure migration is the need for businesses to improve security and reliability.
Windows Server 2016 offers wide-ranging backwards compatibility combined with full lifecycle support for all Windows Server role workloads in common use.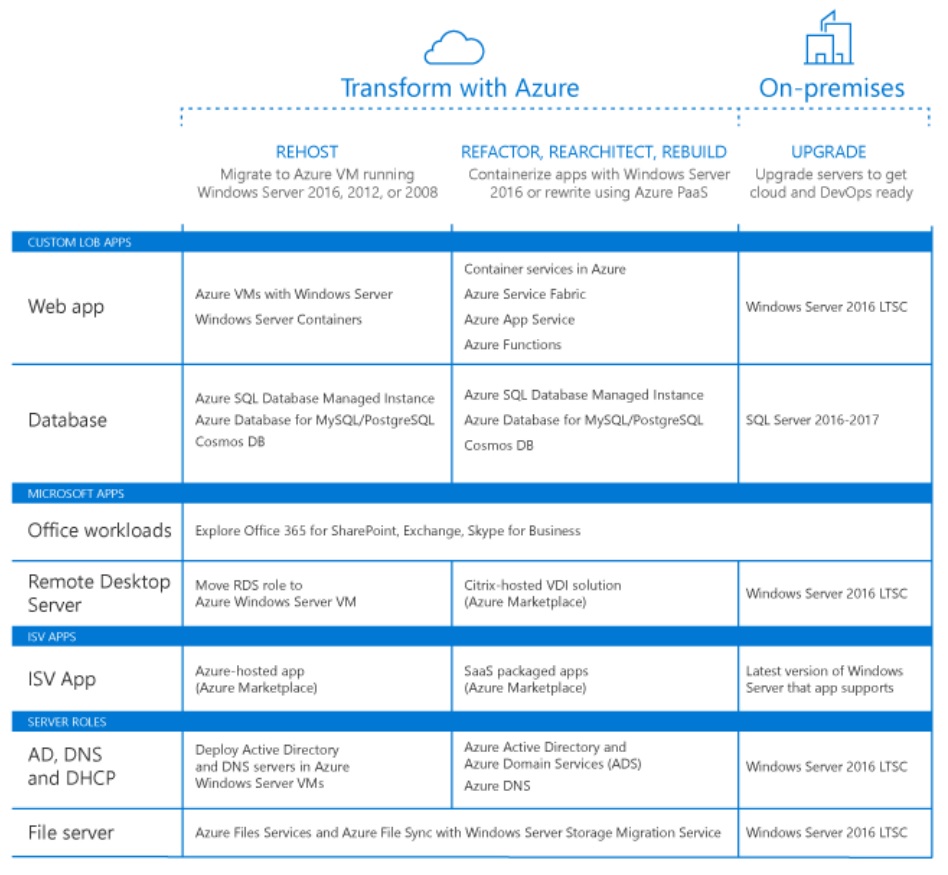 Active Directory
You can convert existing Windows Server 2008 Active Directory domain controllers to Windows Server 2016 instances running on Azure Virtual Machines, which gives you all the security and reliability improvements in Windows Server 2016 without requiring you to buy or deploy new hardware.
DNS
You can replace your existing on-premises DNS servers with Azure DNS. Modernizing your existing workloads gives you the benefit of all the service and feature improvements of Azure deployments and reduces operating overhead by reducing the number of servers and applications you have to manage.
File and Print Services
Migrate data from file shares to OneDrive for Business, SharePoint Online, or Teams. Windows Server Storage Migration Service helps you migrate servers and their data without reconfiguring applications or users. Because Azure Files securely exposes your file storage areas through the industrystandard SMB protocol, you can use any file copy or migration tool you like to move your content—giving you rich options for moving your data on your own schedule.The Azure Migrate tool can help you identify which specific roles you have in place; using this guide along with its results will help you figure out which server roles should be modernized and which should be moved to the cloud.
For more information, see the Azure Migration Guide for Windows Server.
How can Shoreline Technology Solutions help upgrade my Windows Server 2008?
When it comes to upgrading Windows Server 2008, our techs can help your business assess, migrate, and optimize your upgrade.
Assess – Identify and inventory your apps and server roles running on Windows Server 2008 and 2008 R2. Analyze each workload to determine the best path—migrate to Azure or upgrade on-premises.
Migrate – Make the move—migrate your virtual machines to Azure or upgrade to the latest version of Windows Server.
Optimize – Fine-tune your resources to optimize costs, manage resources, and strengthen security and compliance across hybrid workloads.
Contact us today to learn how our small business server 2008 modernization paths can help protect your business.