Choosing the right product to address your unique needs is just part of what it takes to implement SD-WAN successfully. For maximum ROI, be sure to avoid making these common mistakes!
Don't expect to get rid of MPLS entirely
Just about every article, ad, and blog post on SD-WAN will make a reference to "eliminating MPLS," yet industry reports show the MPLS market continuing to grow and surveys indicate that early adopters continue to use their MPLS service. MPLS = Multiprotocol Label Switching
Take caution when sourcing SD-WAN from ISPs
Because the decision of which WAN to use is now in the hands of a company who benefits financially when some choices are made versus others…it's worth it to look at alternatives before making the final decision.
Be sure to involve your security teams
More than likely, your networking team is leading the charge to implement SD-WAN. While this makes complete sense, you should insist that your security team, whether in-house or out-sourced, is also brought into the project as early as possible.
Avoid paying too much
Now that the market has evolved, many providers include SD-WAN capabilities as part of their security or networking platforms, giving today's customers the opportunity to pay less overall.
Account correctly for indirect costs
Costs associated with managing multiple vendors, building manual reports across an enterprise, and ensuring compliance across a complex network architecture can quickly exceed the initial outlay of cash by many multiples.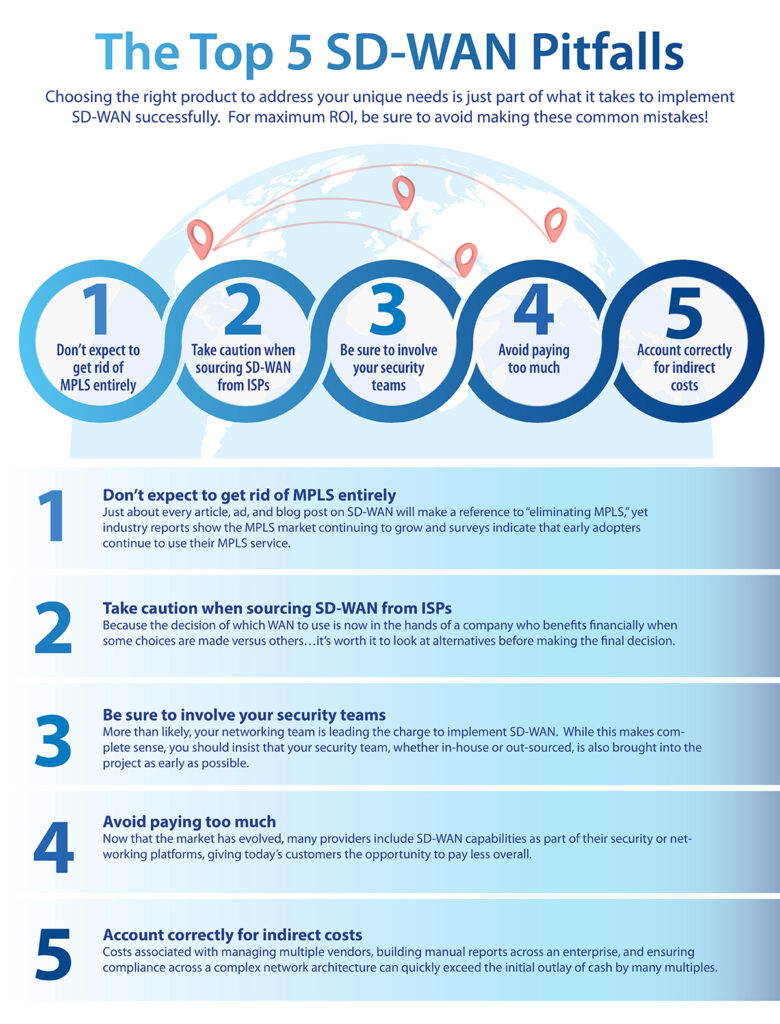 Download this The Top 5 SD-WAN Pitfalls PDF
For over 20 years, WatchGuard has pioneered cutting-edge cyber security technology and delivered it as easy-to-deploy and easy-to-manage solutions. With industry-leading network security, secure Wi-Fi, multi-factor authentication, and network intelligence products and services, WatchGuard enables more than 80,000 small and midsize enterprises from around the globe to protect their most important assets. Shoreline Technology Solutions can install any of WatchGuard's products upon request.
---
About Shoreline Technology Solutions
As a Holland, Michigan Managed Service Provider (MSP), we offer more than just server disaster recovery and break-fix IT support. We evaluate and organize your network, keeping your data backed up and secure—at all times. Don't wait for server disaster to find a qualified Managed Services Provider. Reach out to Shoreline Technology Solutions today. Our information technology company will evaluate your network free-of-charge and provide you with best-in-class hardware and cloud-based solutions. We're excited to hear from you!