Microsoft Teams is the hub for teamwork that brings together all the collaboration and communications capabilities using the full breadth and depth of Office 365. You have the opportunity to collaborate, meet, and share in a more open, fluid, and modern workspace.
Chat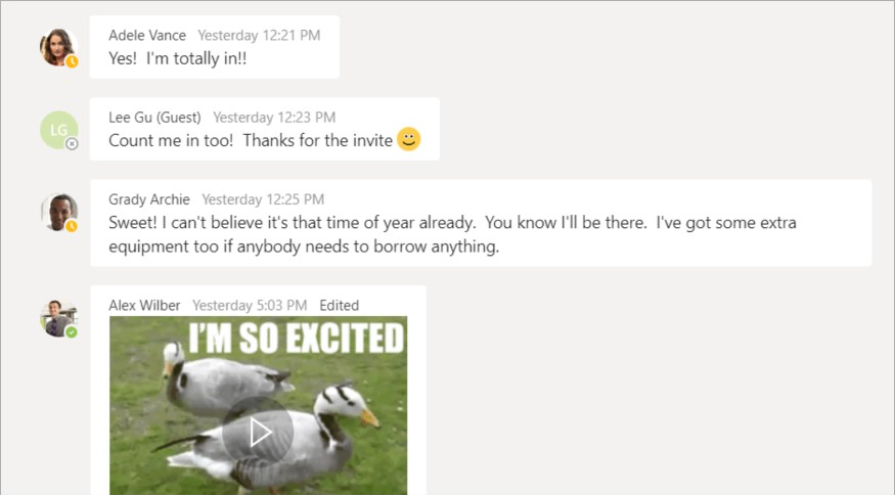 Communicate through threaded and persistent chat with additional features:
Rich text capable
Chat, call, and meet across devices, including mobile
@mention someone to ensure the see your mention
Keep interactions engaging with memes and animated Gifs
File sharing in chat
Collaborate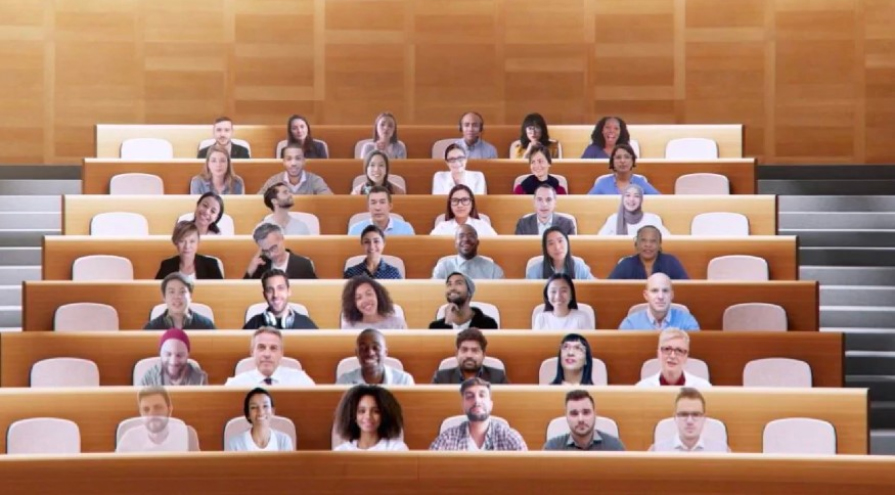 Streamline collaboration and improve teamwork:
Search for content, files, and people
Track project chats, notes, files, and meetings in one place
Office 365 apps are built-in Teams for easy access to SharePoint, OneNote, Power BI, Planner, and more
Communicate directly by @mentioning and tagging team members
Co-author in real time using connected Office and other apps
Meetings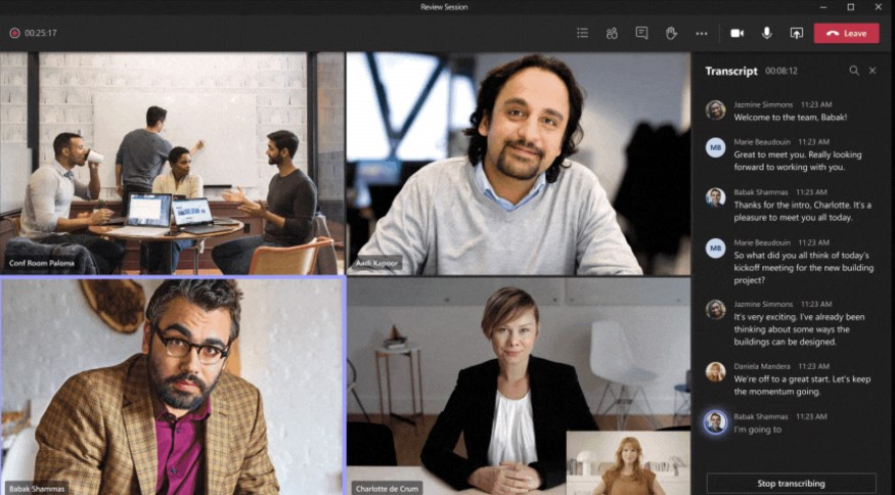 Supports both private and channel meetings in more productive, real-time meetings with:
High definition audio, web and video conferencing
Presentation and application sharing
Cloud recording of meetings with transcription and translation
Share content and use intelligent features like background blur and scheduling assistance from mobile
Calling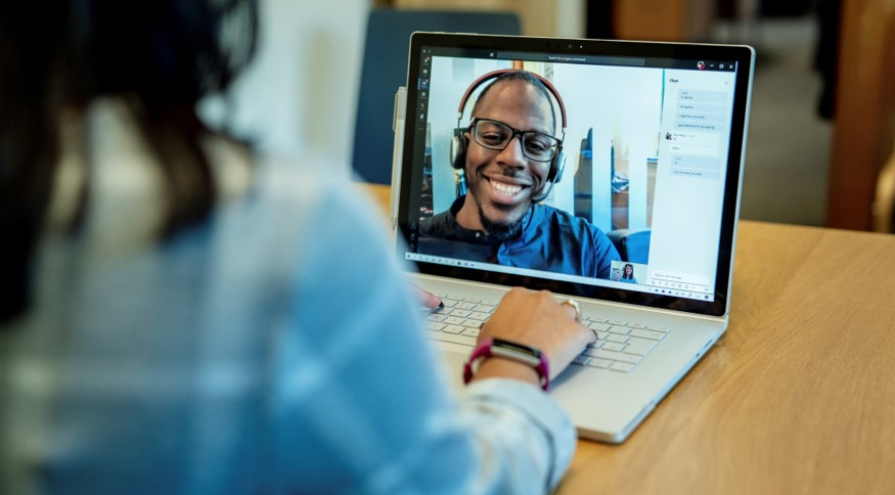 Connect with anyone through phone system:
Have a dedicated phone number for domestic and international calls
Advanced features including voicemail, transfer, and emergency calling (e911)
Advanced call management including, call routing, auto attendant, and reporting
Hybrid voice using Direct Routing
Resources / References
About Shoreline Technology Solutions
As Microsoft 365 (formerly Office 365) consultants and Holland, Michigan Managed Service Providers (MSPs) we help nonprofits and small businesses with Microsoft 365 cloud migrations, deployments, managed services, and more. Our Office 365 consultants will be glad to help you select an optimal set of apps to create a digital workplace that fits your business needs. For more information on Microsoft Teams, contact us today.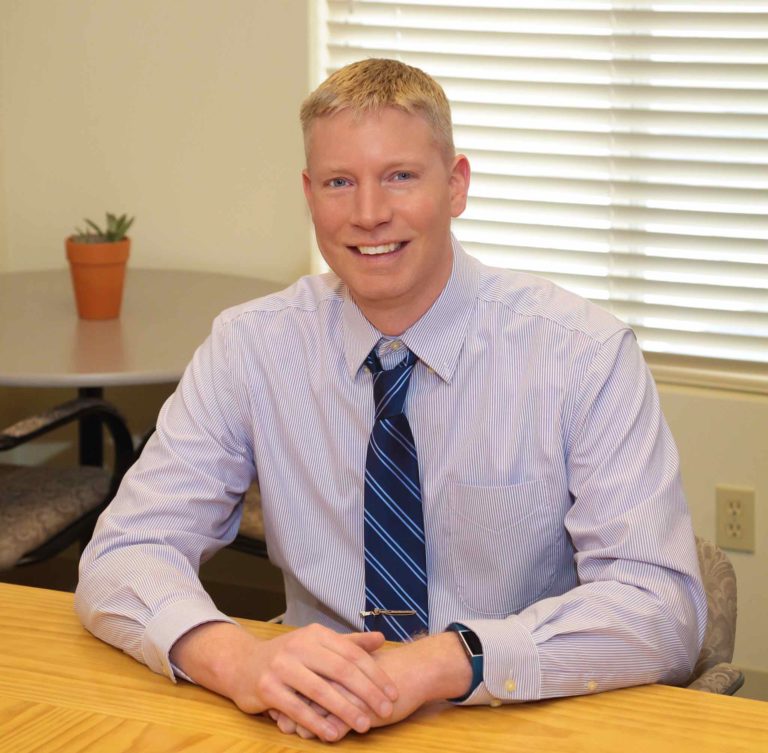 President / Network Architect
Mark Kolean always had a fascination with technology from the time he was 3 and his gift of the Atari 2600 to current. In 1990 at the age of 14 Mark got his first job in customer support for a mail order business supporting Tandy TSR-80 computer software shipped on cassette tape. A few years later Mark was building hundreds of 286, 386, and 486 computers for the new emerging DOS & Windows 3.1 computers that had exploded on the market.
After a college career studying business and technology Mark Started Shoreline Computer Systems in 1999 at the height of the dot.com boom with the looming crisis of the year2k bug just around the corner. In the early 2000's a lot of work was done with early network systems including Lantastic, Novell, and Windows NT Server. Mark became a community contributor to the Small Business Specialist community that revolved around Small Business Server 2000-2011 which focused on single or dual server environments for businesses up to 50 in size. Networks during this time frame mostly had a break fix relationship in which work was billed only when a problem occurred.
In the 2010's Microsoft released their first cloud based software called Microsoft BPOS which would in later become known as Microsoft Office 365. This introduced a new model in technology with pay as you go subscription services. Starting in 2013 Mark's team at Shoreline Computer System rebranded as Shoreline Technology Solutions to focus on the transition to become proactive and less reactive to data backup and security needs. Starting in 2018 all customers are required to have a backup management plan in place as a center point with the full understanding that if STS isn't watching the customer's data, then no one is.
Now in Mark's 22 years of business he is building a company emphasis of how to help customers retire servers and build networks completely in the cloud.